Holidays and birthdays are such joyous times. If we're lucky, we get to come together with those we love most and want to show them how much we love them, usually with the perfect gift. Sometimes that creates a lot of pressure! What if you're shopping for an aspiring minimalist? Or oppositely, the person who has everything? Perhaps you have a really tight budget or have a "no gifts" pact with your pals.
If any of those situations ring a bell, this "giftless gift" guide is perfect for you! I'm sharing ways that you can still celebrate your loved one without necessarily buying a traditional gift (though, I do have a couple concrete ideas for that too 😉).
Experience – Treat Them or Do Together
I love experience gifts! The memories that you create together will likely outlast any other gift. You could also treat them to an activity for just them because let's face it – as great as it is to see loved ones, sometimes the best present is uninterrupted time alone! There are endless possibilities. Here are some to get you started:
Simple coffee date and a neighborhood stroll
Tickets to see a concert, sporting event, movie or show
Spa activities from full treatments or ala carte manicure, pedicure, facials, and more
Certificate for a nice dinner out, whether it's their favorite place or somewhere new
Movie night in at one of your houses
Craft together at a paint and wine night or stay in – I know you have ideas pinned you've been waiting to try!
Get Crafty
Speaking of crafts – you can get crafty all on your own! If you have any creative hobbies like knitting, painting, candle making, whatever!, use those skills to make special gifts for your loved ones! Don't worry about it being perfect – they will love it because it came from your heart!

Help Around the House
Regardless of a person's situation, they likely would appreciate a couple extra hands around the house. Offer to come over and clean or help organize if they are open to it. Grab you both some coffee along the way and make a day of it!
Bake Treats or Make Meals
A home cooked meal can go a long way, especially if the person you have in mind doesn't cook often (think your cousin in college, bachelor brother, etc). Sweet treats for the week or dinner in the freezer ready to heat up on a busy night can go a long way.
Make a Donation in Their Name
Do they have a cause they really believe in? What are they passionate about? Make a donation in their name to their favorite charity or one you think they'll really value. I've had this gift given to me before, and it was the sweetest. They donated to the rescue group who we've fostered with and adopted Doug through. It was so incredibly kind and really meant a lot.
Write a Letter
This might sound simple, but it's really profound. Especially if the person you're "shopping" for is struggling, having a heartfelt letter from a loved one will be cherished greatly. Or the note could make a perfect companion to another gift idea.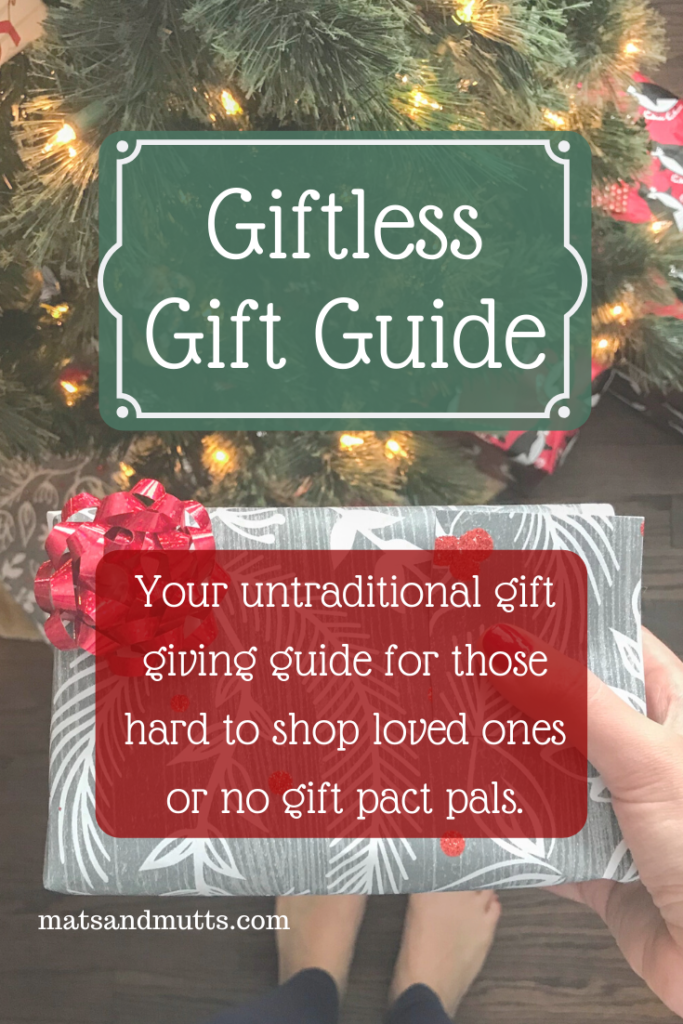 And if you really want to give a gift…
Spend some time really thinking of what they'd appreciate – are they a practical person? Perhaps get a gift card to their favorite grocery store or gas card. Have they recently started a new hobby? Look for a book to help them learn.
Most of all, ask them what they need or really want! Some may counter that takes the excitement out of gift giving, but if you are really unsure, don't create unnecessary pressure for yourself. Last year, a friend shared a tip that my husband and I used: something you want, something you need, something to wear, and something to read. That totally simplified our buying process, especially for the kids in our family!

Remember, special occasions are made special because of the people you share them with. It's always sweet and thoughtful to show you care, but never feel you have to break the bank in order to do so! You can show you care through more than what you buy.