If you've been around the blog for a bit, you know I'm team #earthdayeveryday, but I still love celebrating our home extra on April 22 each year. I love the collective support that comes from people of all forms to take a moment to appreciate Mama Earth.
This Earth Day, though, looks very different than years past. While I have posts about ways you can reduce waste and how to create a low-cost zero-waste starter kit, the reality of the coronavirus situation is, a good chunk of these can't be put to use. In fact, our current reality looks more like this: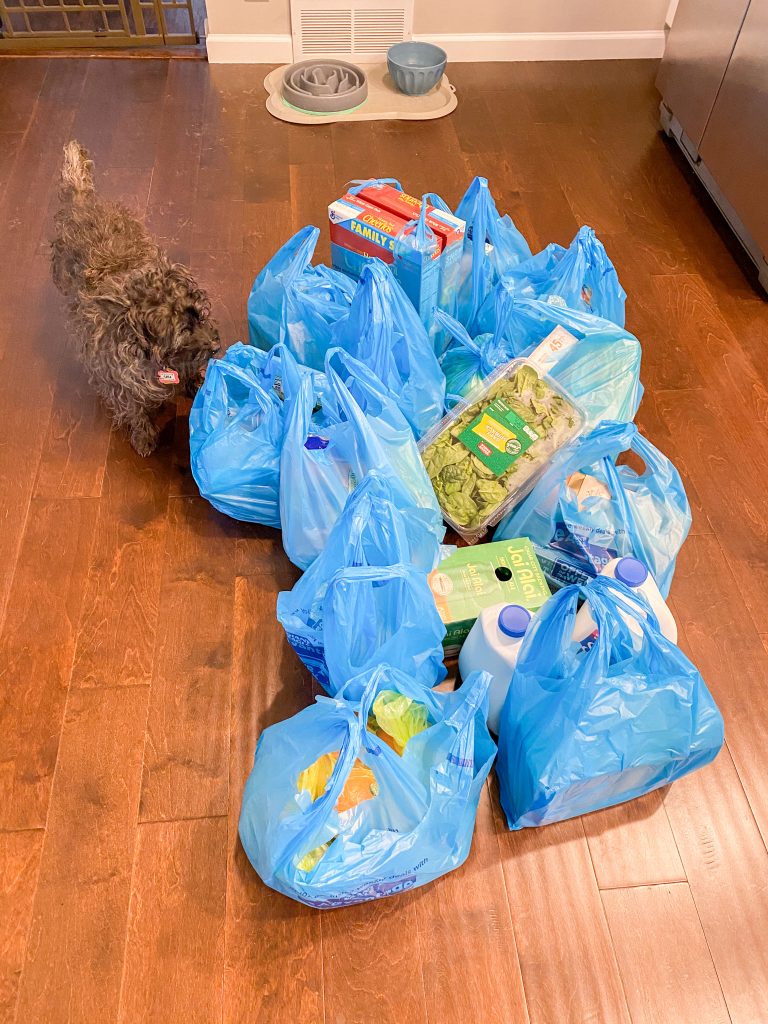 What to Do When You Can't Use Reusables
Unfortunately, we can't use our normal reusables like grocery & produce bags and travel mugs. Not going to lie – that was unsettling to me at first. After years of adopting sustainable habits, I felt heightened anxiety around the waste we were creating.
I fully believe in two things: one, making sure we are taken care of is primary. And two, if you're in a position to patron local and small businesses right now to do so, even if the take-out bins make you cringe. Remember – this is temporary, and these measures are in place to protect the health of not only consumers but for the workers (who are total rockstars for keeping us going!).
Here's what else we've been trying to do:
Recycle what you can.
Our grocery store has bins to collect used grocery bags to be recycled. They also collect similar plastics as well like produce bags. Check your take-out containers. If they are recyclable, give them a good rinse before putting in your recycle bin.
Reuse what you can.
If you are able to have the option to choose, try to see what options are available for your needs. For example, if you have a choice between an item that is in plastic or one that is in glass, I'd opt for the glass. While our glass jar collection may be the bane of my husband's existence (we have a LOT, haha), we use glass jars for everything! Storing food in the pantry or fridge, for plant starters, for displaying flowers.. Plus, the recycling company for our township accepts glass for those that I am forced to part with 😉
Ideally – Reduce What You Can.
Even in our new-ish reality, we still have an opportunity to reduce! Things like shampoo & conditioner bars, menstrual cups, cloth napkins, and cleaning rags are all items that you can still use at home! These efforts go a long way in reducing waste. We also recently invested in a bidet, which is a great way to reduce toilet paper (which is perfect given the toilet paper scarcity we're in 😬 – every square saved matters 😂).
Also, there are LOADS of amazing deals online right now, and I've picked up a few new things myself (a couple springy items from my favorite Everlane and a Nintendo Switch – we've been loving Animal Crossing and Mario Party!). But as tempting as it is to indulge some retail therapy, I think a silver lining of this time is remembering what is truly important. Connecting with ourselves, embracing quality time, prioritizing rest, getting creative… There are some needs that can't be filled with material objects 💛
How to Celebrate Earth Day During COVID-19
So how can we celebrate the Earth during this period of more waste? Easy – there are so many ways to celebrate Earth Day that aren't centered around reusables!
Get Outside!
First and foremost, carve out time in your day to get outside and enjoy some fresh air. Take a stroll around your neighborhood, practice a walking meditation in nature, tend to your garden, curl up with a good book on your porch – whatever makes you feel good while taking time to spend outdoors.
Practice Gratitude
Make a list of what you're grateful for that the planet provides and what you enjoy most. Consciously reflect on how you're grateful for trees producing oxygen, bees pollinating flowers, seasons bringing a change in landscape and experiences… The more we observe what we're grateful for about the earth, the more connected we are to it. And the more connected we are to it, the more we strive to take care of it ❤️
Learn About the Planet & Share
Especially if you have kiddos, take this time to learn more about the planet! Study plants and wildlife in your area. Ask questions: why does sustainability matter? How can we slow climate change? What can we do each day to take care of the planet? Take time to learn about why it's important to turn off the lights and how clothes are made. Knowledge is power! Share what you learn on your social media and with family & friends!
Do Your Best!
Like I said, remember this is temporary, but perfection is unattainable, pandemic or not. Don't put pressure on yourself – ever, but especially now – to do everything "right". This is an unprecedented time but full of lessons. Prioritizing our physical and mental health is important, so make sure you're taken care of and are speaking kindly to yourself! It's also important to remember that certain sustainable efforts require a degree of privilege – for example, having access to fresh water to refill water bottles. So have empathy for all and do what you're able to without judging your efforts to someone else. All we can do is our best!