When you close your eyes and picture your closet, are you able to visualize every item in there?  Or is it busting at the seams with items you haven't worn in years?  Maybe you have your cold/warm weather items tucked away.  Now imagine all your clothes – business, casual, all seasons – can hang neatly with room to spare. Every piece goes well together, is versatile for various occasions, and fits you like a glove.  This perfect solution is known as the capsule wardrobe!
Capsule wardrobes are all the rage and for good reason!  This trend is here to stay and is easy to follow once you get going.  Basically, you limit your clothes to what you love most and actually wear, typically having a handful of quality, basic neutrals that can be worn many different ways.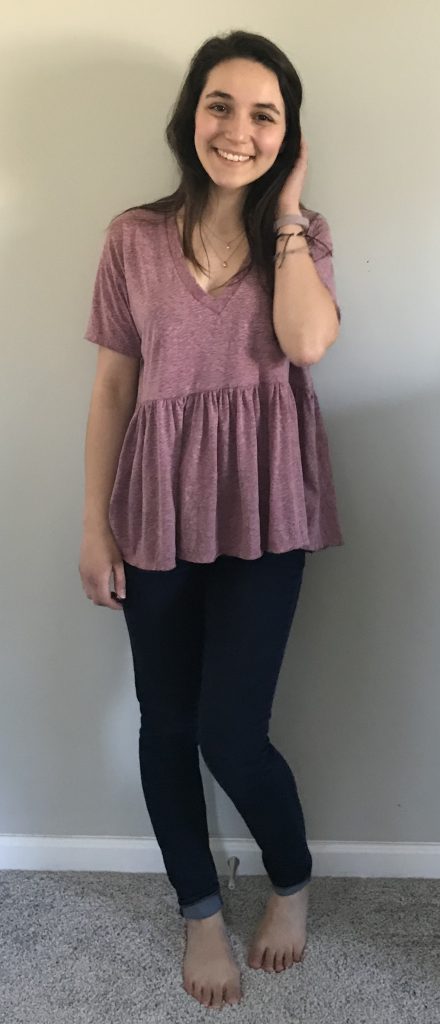 What's also really great is how there are so many ways to make it your own.  My dear friend and fellow blogger, Tina of Inspired Reality, is sharing her spin on it, including all her go-to pieces, on her latest post today, too!  Check it out for inspiration on where to get those classic basics that can fit into any wardrobe, like the cute top from Urban Outfitters I'm wearing above!
There are lots of reasons to slim down your closet, but it can actually be overwhelming if you don't know where to start.  Today, I'm sharing some tips that have helped me adapt the capsule wardrobe to my needs and lifestyle, highlighting some of my favorite staple pieces.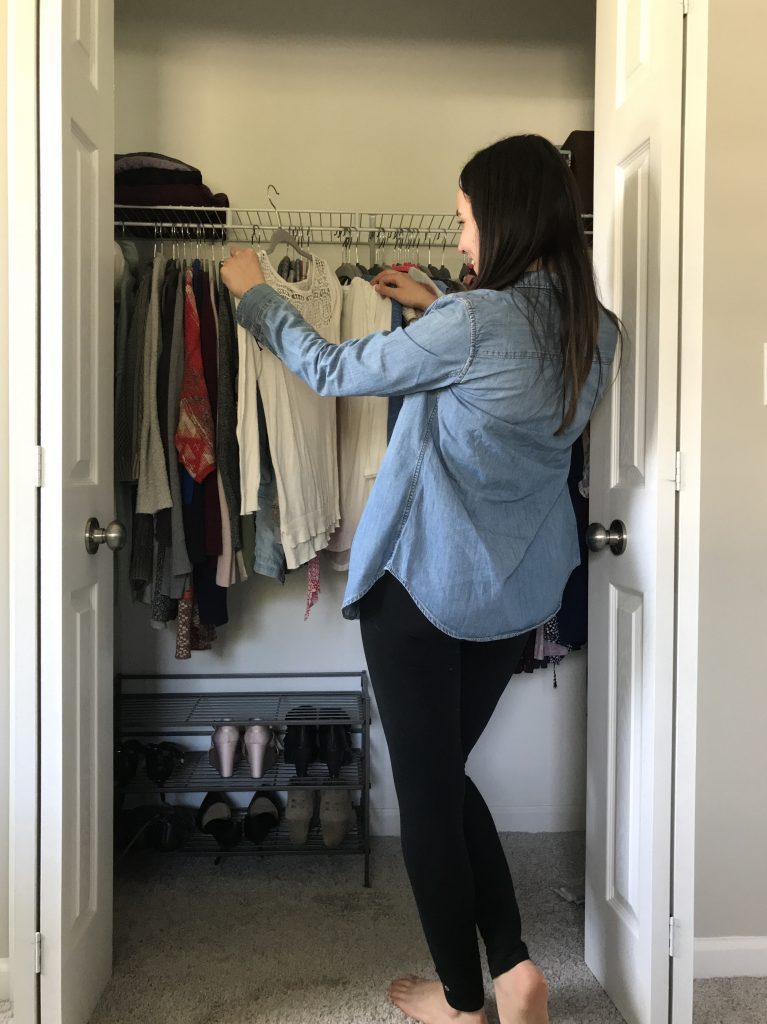 But first, let's talk about why it's important!
Releasing attachment to physical items.  This practice of non-possessiveness, Aparigraha, is one of the yamas (part of the eight limbs of yoga).  All your possessions require your attention and energy, and letting them go frees up the clutter, both in our physical space & minds.
Reducing your environmental impact.  In my post on reducing waste, I shared a story about a trip to the local transfer station, where we were met with piles of unwanted items that were easily over fifteen feet tall.  Seeing the impact of the materialism was jarring and life changing. Buying less = producing less = wasting less.
Appreciating what you have.  When you learn to live with less, you become more grateful for the items you have.  You probably don't need to have more than a few pairs of jeans or a dozen sweaters.  Trimming down to the essentials will allow you to take more care of each piece and really appreciate it more.
Becoming intentional with your shopping habits.  You start to look at each item and ask yourself – Do I really need this?  Do I absolutely love it? What purpose will it serve?  If you must have it, think about what it can replace instead of adding to what you have.
Now to Get Started…
Understand what you're working with and think about what you want your wardrobe to look like.  I used a planning guide from Unfancy and let me tell you – it absolutely changed everything!!  It may seem thorough and slightly over the top, but trust me, it's worth it.
Using that guide, I honed in on:
Style – My favorite pieces have always been classic, simple, and comfortable.  Joanna Gaines is my spirit animal in so many ways, especially her clothing (and let's face it – home) style.  She shared about her wardrobe philosophy (invest in quality basics, layers, and comfort) on her blog a few years back, and I've taken those ideas to heart.  We even have matching pieces, like our J Crew jackets, pictured below!
Favorite brands – Think about what pieces fit you best and what you gravitate to the most, or even what you feel proud wearing (ie ethical companies that give back to causes you believe in!).  You can also find your favorite brands while thrifting!  One of my favorite pieces is a second-hand dress, originally from The Loft, that I got in the fall – pictured above
Color scheme – I'd never thought of this before filing out the guide, but it makes total sense!  When you have a cohesive color scheme for your wardrobe, it's so much easier to put outfits together.
Time to Dig In!
Try on every piece of clothing and keep only what you absolutely love and feel great in!  Don't keep clothes for "when you lose that extra few pounds". (PS – you don't need to!!! Love the body you have today!)
Address seasonality.  I live in in Northeast Ohio, where weather can be unpredictable.  It's all about layers! I have cardis and sweaters that I can layer over tanks and short sleeve shirts, making nearly each piece in my wardrobe able to be worn year round.
Try to stick to what you already have, but if you need a few things, it's okay to head to the store – with a plan.  Try to go with a specific list and budget and stick to it!
Think quality over quantity.  Investing in high quality pieces pays off in the long run.  When you have a limited wardrobe, you wear each item more often and want them to last.
Get rid of unwanted items – find an organization that you connect with to donate, organize a swap with family and friends, or find a use to repurpose them.
Keep in Mind
Please don't purge all our belongings and start from scratch.  That is so wasteful! And don't think you must have all the perfect pieces hanging in your closet immediately.  Take your time and have fun with it!  If you have items that you're on the fence about, pack them away out of sight for a couple weeks.  If you haven't thought about them during this time, send them out the door!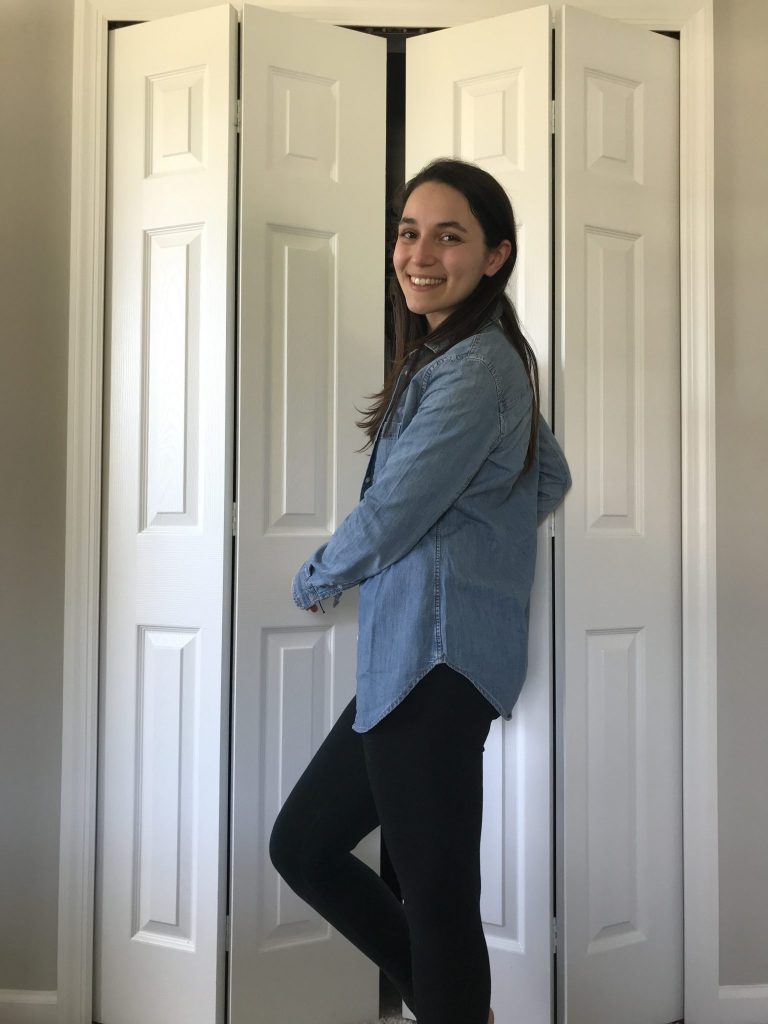 Final Thoughts
I have been very pleased with what I've limited my wardrobe to, but every now and then, I will re-evaluate and peel it away even more.  There just isn't a need to have an overflowing closet.  My mind feels less cluttered each time I donate a shirt or walk past a dress I don't need.  It truly gives me joy to open my closet and feel so good about each item I see!